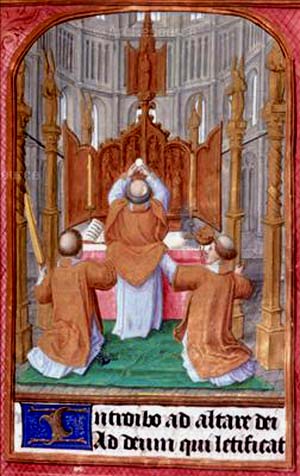 According to the Catholic Catechism, the Eucharist is the source and summit of the Christian life - a sacrament of inexhaustible richness. Though the Eucharist is a mystery, and therefore something we can never fully understand, the Church teaches very fully and clearly regarding the Eucharist, and we must strive to grasp this teaching as thoroughy as possible. A very good source for this teaching is Abbot Vonier's magnificent text "A Key to the Doctrine of the Eucharist." The following is taken from the chapter "Transubstantiation:"
"Wherever a priest, in the name of Christ, pronounces the sacramental consecration, the substance of the bread and the substance of the wine are changed into the substance of Christ's Body and the substance of Christ's Blood. There is no bringing down from heaven of the Body and Blood of Christ; this is not the Eucharist; but Christ's Body and Christ's Blood are truly produced in an act of divine power, as grace is produced in the human soul at Baptism."
St. Thomas Aquinas, masterful teacher regarding the Eucharist, pray for us.