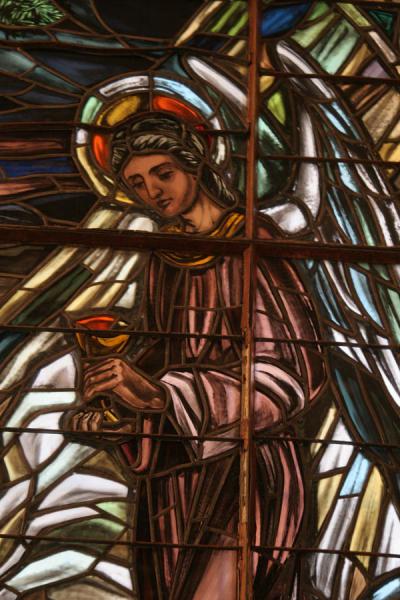 "Angel," Catedral Primada de las Americas, Dominican Republic
The Church traditionally devotes the month of January to the Holy Name of Jesus. Though devotion to the the Holy Name of Jesus is as old as the Church itself, in recent decades interest in the devotion has ebbed dramatically. Earlier this month I quoted from Fr. Paul O'Sullivan, O.P.'s pamphlet "The Wonders of the Holy Name," one of very few texts available through Amazon having to do with devotion to the Holy Name of Jesus.
Again I quote from Fr. O'Sullivan, this time on making prayerful requests through the Holy Name of Jesus:
"The Angels are our dearest and best friends and are most ready and able to help us in every difficulty and danger.
It is most regrettable that many Catholics do not know, love and ask the Angels for help. The easiest way to do so is to say the Name of Jesus in their honor. This gives them the greatest joy. They in return will help us in all our troubles and keep us safe from many dangers.
Let us say the Name of Jesus in honor of all the Angels, but especially our dear Angel Guardian, who loves us so much."