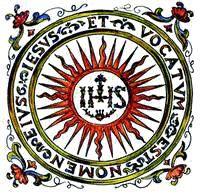 The Church traditionally devotes the month of January to the worship of the Holy Name of Jesus. Though devotion to the the Holy Name of Jesus is as old as the Church itself, in recent decades interest in the devotion has ebbed dramatically. In order to familiarize myself with this devotion, I've been leafing through Fr. Paul O'Sullivan, O.P.'s pamphlet "The Wonders of the Holy Name." It's one of very few texts available through Amazon with any bearing upon the Holy Name of Jesus.
Here is Fr. O'Sullivan on devotion to the Holy Name of Jesus:
"St. Paul tells us that we must do all we do, whether in word or work, in the Name of Jesus. "All whatsoever you do in word or in work, do all in the name of the Lord Jesus Christ . . . " (Col. 3:17)
In this way, every act becomes an act of love and of merit, and, moreover, we receive grace and help to do all our actions perfectly and well.
We must therefore do our best to form the habit of saying, "Jesus, Jesus, Jesus," very often every day."
"
Jesus, Jesus, Jesus
."