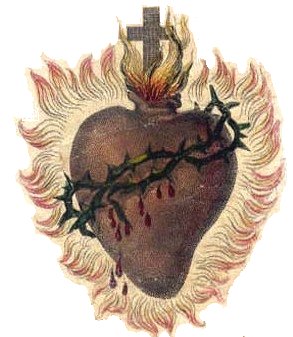 About twenty years ago I tagged along with a friend making a visit to a Jesuit priest who resided in an infirmary for elderly Jesuits on the campus of Fordham University in the Bronx. I noted with surprise that the infirmary was one of the more imposing buildings on the campus. I learned from my friend that the infirmary building previously had housed the offices and printing plant of a magazine called "The Messenger of the Sacred Heart." The Messenger was published by an organization founded and run by Jesuits known as the Apostleship of Prayer. As the size of its former offices would suggest, the Messenger had once been very popular. In the 1920's, when the building was erected, the Messenger had a circulation of 350,000 in the United States. However, it has since become defunct. The Apostleship of Prayer survives; indeed it claims 40 million
members worldwide.

Moreover, 50 different Messengers of the Sacred Heart are still published around the globe.

However, it appears from their
website
that devotion to the Sacred Heart has been somewhat de-emphasized.
From its earliest days, the Society of Jesus had promoted devotion to the Sacred Heart. For example, in 1691 Jesuit Father John Croiset wrote the highly popular "The Devotion to the Sacred Heart of Jesus," and Fr. Joseph de Gallifet, a Jesuit who had also been a student of Fr. Colombiere, St. Margaret Mary Alacoque's confessor, helped promote the devotion in the late 17th and early 18th centuries. As recently as the 1950's, Jesuits such as Carl J. Moell assisted in editing Papal encyclicals relating to the Sacred Heart. These days, however, one senses that the Jesuits' ardor for this devotion has markedly diminished.
Whatever the current Jesuit view of Sacred Heart devotions may be, the following words of Carl J. Moell, S.J. remain as true today as when they appeared in the Jesuit magazine "America" in 1956 (full article
here
):
Underlying all these statements is the recurring theme: devotion to the Sacred Heart is an extraordinary remedy providentially given to us to meet the extraordinary evils of the modern world. Prayer alone is not enough; we must use all natural, human and social means at our disposal to bring about a lasting peace and a better world order. But all natural means will fail of their goal unless we give the primacy to the supernatural, unless we recognize the inadequacy of merely human means and, in the words of Leo XIII, look to that "most happy and holy sign, the most Sacred Heart of Jesus, crowned by a brilliant cross set among raging flames. In this Sacred Heart we should place all our hopes; from it too, we ask and await salvation."