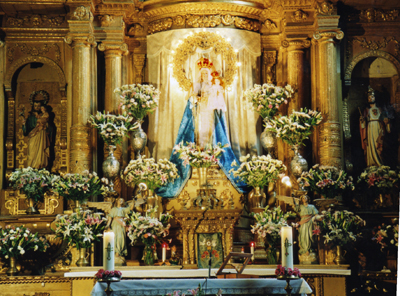 Altar of Our Lady of Good Success
In 1610 AD, Our Lady (under the title "Our Lady of Quito" or "Our Lady of Good Success"), appeared in a vision to an abbess in Ecuador to announce a prophecy which included the following:
"…. I make it known to you that from the end of the 19th century and shortly after the middle of the 20th century…. the passions will erupt and there will be a total corruption of customs (morals)….
"As for the Sacrament of Matrimony… it will be attacked and deeply profaned… The Catholic spirit will rapidly decay; the precious light of the Faith will gradually be extinguished… Added to this will be the effects of secular education, which will be one reason for the dearth of priestly and religious vocations."
Sounds pretty accurate so far. Our Lady also promised that this period of trials would be followed by "a complete restoration." We will look for restoration eagerly. The estimable Dr. Oddie has more
here
.