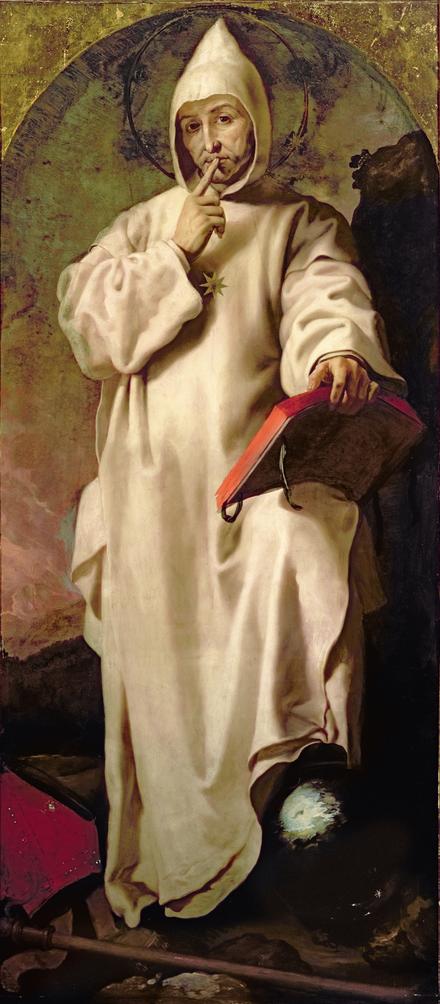 "St. Bruno," by Francisco Ribalta
Today we celebrate the feast of St. Bruno (1030 AD - 1101 AD). Born at Cologne, St. Bruno was a canon, teacher and chancellor of the diocese of Reims, where he dutifully obtained the ouster of the evil bishop Manasses de Gournai. St. Bruno was the obvious choice to replace de Gournai, but had already decided to leave Reims and enter monastic life. He presented himself first to St. Robert of Molesme, who with his companions would go on to found the Cistercian order. Deciding this was not his vocation, St. Bruno next visited St. Hugh of Chateauneuf, the bishop of Grenoble, who led St. Bruno and his small band to a wild, rocky spot in the Alps called Chartreuse. There they built a monastery, planning to live as hermits while worshipping as a community. Though not their intention, these efforts led to the establishment of a new religious order, to be called the Carthusians. At its height, the Carthusians could count more than 200 foundations. Today there are 24 Carthusian monasteries throughout the world.
From time to time, St. Bruno was summoned from his solitude at Chartreuse to advise Pope Urban II, a former pupil. During one of these interludes away from Chartreuse, St. Bruno narrowly escaped being appointed bishop in Calabria. St. Bruno remains a popular saint in this region of Italy.
In 2002, the monks of Chartreuse permitted a German filmmaker to live among them for 4 and a half months. The filmmaker used only natural light, and shot and recorded the film himself. The resulting documentary is called "Into Great Silence." It is as close as most of us will get to experiencing life in a Carthusian monastery. Here is the film's trailer:
St. Bruno, pray for us.