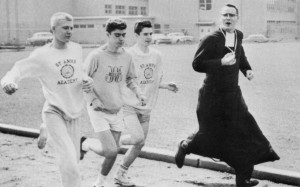 Marist brother making Jesus known and loved in Briarwood, Queens, circa 1967 AD
Today is the feast of St. Marcellin Champagnat (1789 AD - 1840 AD), founder of the Institute of the Little Brothers of Mary, known as the Marist Brothers. Marcellin was the ninth child born to very religious parents in Marlhes, a town in the mountains of central France. When Marcellin was 14, a priest passing through his village helped Marcellin recognize his vocation to the priesthood. Marcellin, though illiterate and uneducated, used money earned from herding sheep to enter the minor seminary in Verrieres in 1805. There he endured a massive struggle just to avoid flunking out immediately. Indeed, after his first year in Verrieres Marcellin was expelled for academic failure, but his mother, his parish priest and the superior of the seminary succeeded in getting Marcellin re-admitted.
At the major seminary in Lyons, Marcellin was part of a remarkable class which included Jean-Marie Vianney, who would later serve as the Cure of Ars, and who was canonized in 1925. The class also included Jean-Claude Colin, who would found the Marist Fathers. Knowing from his own experience of the desperate need among children in the French countryside for education, and particularly spiritual education, Marcellin felt a strong desire to create a society of brothers for the Christian education of young people. As Marcellin often would say, "I cannot see a child without wanting to tell him how much Jesus loves him." Less than six months after his ordination, Marcellin had already gathered his first two disciples. Despite much adversity the Marists grew rapidly, and Pope Pius IX approved the Institute of the Marist Brothers in 1863. At their most numerous, there were 10,000 Marist Brothers in the world; today there are 5,000 brothers working in 74 countries.
The mission of the Marist Brothers is "To make Jesus Christ known and loved."