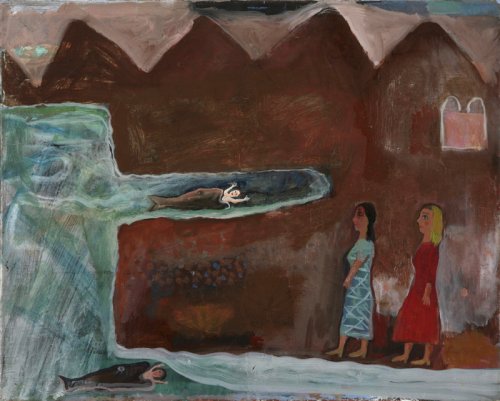 "Jonah Arrives at Nineveh," Albert Herbert, 2004 AD
The Christian population in the city of Nineveh, known today as Mosul, had already dropped from 30,000 before the US led invasion in 2003 to just 3,000. In the wake of the city's recent seizure by jihadists,
the Christian population of Nineveh has now fallen to 0
.
We are living in an age of historic disasters for ancient Christian places. Other ancient churches in the eastern Mediterranean, for instance Homs and Damascus in Syria and Alexandria in Egypt, are also under threat or on the point of disappearing.
The Book of Jonah tells of disaster averted through repentance. In the time of Jonah, Nineveh was a great city, but a very wicked one. God told Jonah to preach to the people of Nineveh that in 40 days the city would be destroyed. Jonah was not exactly eager to do this, but he finally went and preached repentance in Nineveh. If you look at a map you will see that Jonah had a long way to go after that fish vomited him onto the dry land. As soon as he heard Jonah's short warning of disaster, Nineveh's king dressed in sackcloth, and sat in ashes. He also proclaimed a great penance:
Let neither man nor beast, herd nor flock, taste any thing: let them not feed, nor drink water:

But let man and beast be covered with sackcloth, and cry mightily unto God: yea, let them turn every one from his evil way, and from the violence that is in their hands.

Who can tell if God will turn and repent, and turn away from his fierce anger, that we perish not?
Everybody in Nineveh joined the king in penance and repentance. The very reluctant Jonah turned out to be one of the most effective preachers ever - he converted a whole city by saying less than 10 words. God saw that the people of Nineveh repented, and he didn't destroy the city.
Penance and repentance worked for the people of Nineveh nearly 3000 years ago. Might be too late this time, but, on the other hand, it couldn't hurt.
UPDATE: Even
dead prophets aren't safe in Nineveh today
.