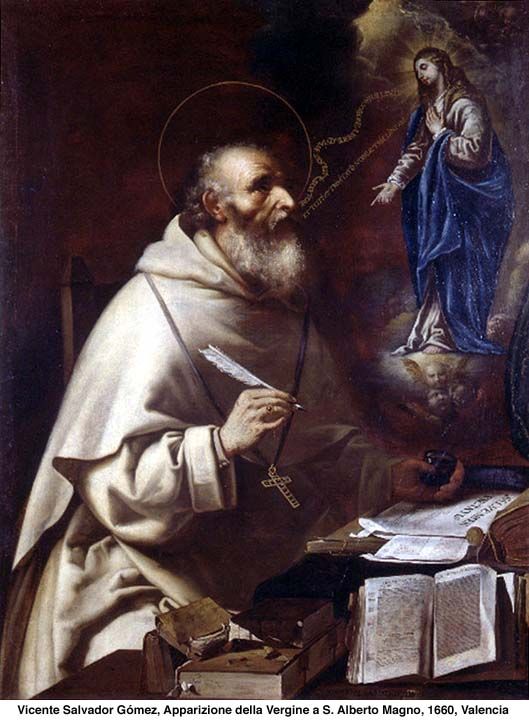 "Apparition of the Virgin to St. Albert the Great" by V. S. Gomez
Today the Church celebrates the feast of St. Albert the Great (d. 1280 AD). The eldest son of a Bavarian count, Albert entered the Dominican order in about 1221, and was appointed provincial of the order in 1254. Albert also served as bishop of Regensburg for three years. Though he discharged these duties with great care, most of St. Albert's efforts and energy were devoted to the study of philosophy and natural science. St. Albert was an experimental scientist far in advance of his age, a philosopher through whom the works of Aristotle were transmitted to Europe, a naturalist, and a theologian. St. Albert's compiled written works, on topics ranging from astronomy to zoology, fill thirty eight volumes. In recognition of the staggering breadth of his knowledge, St. Albert is called "Doctor Universalis." Notwithstanding the vast scope of his own intellectual achievement, St. Albert is best known as the teacher of St. Thomas Aquinas, whose brilliance he was quick to recognize. He assisted St. Thomas in answering the errors of the Arabian philosopher Averroes, and was greatly grieved, for himself and for the Church, when St. Thomas died in 1274. In his Divine Comedy, Dante places St. Albert and St. Thomas Aquinas together among the great lovers of wisdom in the Heaven of the Sun.
Here is a short sample of the thought of St. Albert:
"It is by the path of love, which is charity, that God draws near to man, and man to God. But where charity is not found, God cannot dwell. If, then, we possess charity, we possess God, for 'God is Charity.'"
St. Albert the Great, pray for us.