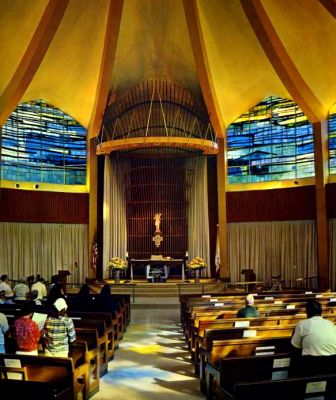 T
his wasn't the main attraction
If you grew up in the NYC area during the early 1960s there's a good chance you visited this place. More than 27 million people did, including Pope Paul VI. On the busiest day, almost 184,000 people elbowed their way through. Notable for its novelty rather than its beauty, this chapel was part of a larger building, but not a trace of it remains today. Can you name it? The usual refrigerator magnet will be awarded for each correct answer.
UPDATE: We have winners! It's the Good Shepherd Chapel of the Vatican Pavilion from the '64-'65 World's Fair. The Vatican Pavilion's big draw, and the crown jewel of the entire Fair, was this famous statue: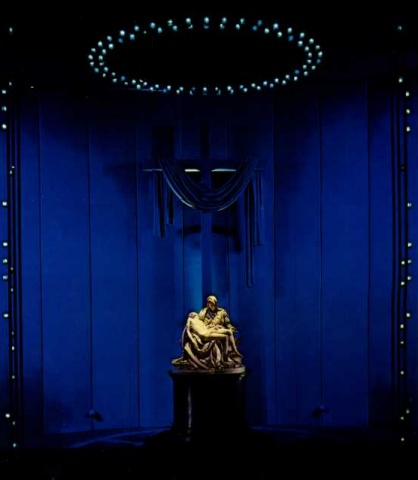 Michelangelo's "Pieta" (1498 AD)
Visitors were moved past the statue along three motorized walkways. Between the walkways and the Pieta was a wall of bullet proof glass; perhaps they feared Americans would be unable to resist pumping lead into such a pretty statue. Notwithstanding the bullet proof glass, 27 million people gliding within yards of such a masterpiece evidently made the Vatican people very nervous, because afterwards they decided never to allow their treasures to be exhibited outside the Vatican again. Little good it did the Pieta, as a madman would enter St. Peter's Basilica in 1972 and attack the statue with a hammer. Applying a lesson learned in Queens, the Pieta has ever since been displayed behind bullet proof glass.
After the Fair, the Vatican Pavilion was demolished. This engraved bench, with the oddly grandiose name of "Exedra," is the only reminder: