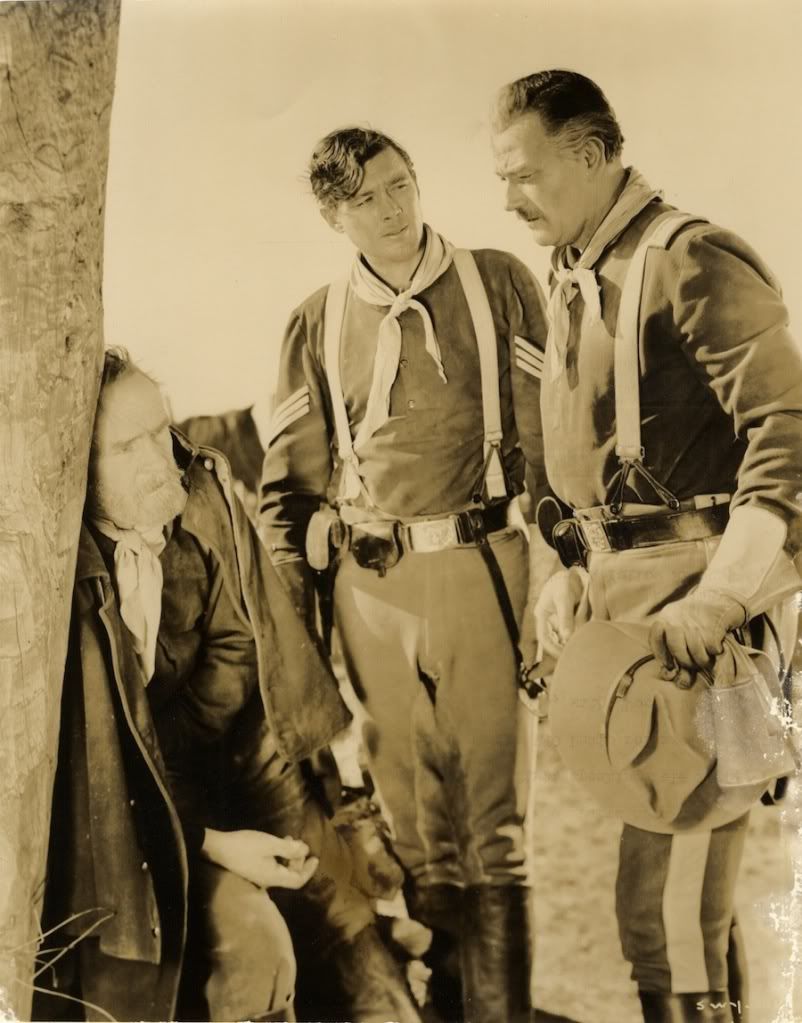 Rudy Bowman (left) with Ben Johnson and John Wayne in "She Wore a Yellow Ribbon"
Which is why we love stories like this one. If you've watched John Ford's "She Wore a Yellow Ribbon," (and if you haven't you certainly should) you may recall the scene where a gravely wounded "Trooper Smith," who is actually a former CSA general enlisted in the US Cavalry under a pseudonym, speaks a few words in commendation of his sergeant, likewise a former CSA officer, before expiring. There is a touching story behind this scene that speaks well not only of the actor portraying Trooper Smith, but also of John Ford himself.
The actor's name is Rudy Bowman, and though from his youth Bowman had dreamed of becoming an actor, and though he had indeed appeared in many movies, at the age of 59 Bowman was playing the sole speaking role of his career. That's because, as an infantryman in the Great War, Bowman suffered a grievous shrapnel wound which tore out a portion of his trachea, including all of his vocal cords. Though he could barely breathe, much less speak, Bowman was, in a way, fortunate, in that the rest of his squad had been instantly killed by the shell blast. However, such a wound would seem to have put an end to Bowman's dream of an acting career. Nevertheless, Bowman persevered, finding work in Hollywood as an extra and as a camera man. Even more remarkably, through years of practice and exercise, Bowman actually taught himself to speak using the ventricular folds of the throat. At first, Bowman managed only barely audible grunts, but eventually, through precise breath control, Bowman could achieve clipped, short phrases of otherwise normal sounding speech.
The director of the scene, John Ford, had served as a Commander in the US Navy Reserve during World War II, and was himself wounded by shrapnel at the Battle of Midway. Ford also filmed the bloody D-Day landings on Omaha Beach, though the undoubtedly shocking footage has never been publicly shown, and is said to be lost. Moreover, Ford had served in the OSS (the predecessor to the CIA), suffering a gunshot wound during an OSS mission. As a twice-wounded veteran, Ford took great satisfaction in employing fellow Purple Heart winners in his pictures. Ford knew of Bowman, and happily offered him the role of Trooper Smith, confident that speaking a dying man's few final words was within Bowman's abilities.
Everyone on the set that day was aware of Bowman's story. After an encouraging wink from John Wayne, Bowman began his short scene. Halfway through his character's short, dying speech, which Bowman pronounced in phrases of a few words each, his voice broke, and a tear ran down his cheek. Bowman quickly recovered, and when he had finished, even the hardened stunt men were also in tears.
(h/t
Directed by John Ford
)